'André Charles Boulle as a Maker, Designer and Publisher of Prints'
André-Charles Boulle's interest in print-making was not limited only to his vast collection of works on paper. The cabinet-maker also designed, made and sold prints and used print-making techniques in the workshop. Drawing on her doctoral research, Mia Jackson will explore Boulle's role in print-making, print-publishing and print-selling. She will discuss Boulle's series of prints of furniture designs, which her research into publishing history allows her to date more precisely. She will also discuss Boulle's print design for the Confraternity of St Anne at Carmes-Billettes, and the numerous copperplates that he owned and from which he sold impressions.
Mia Jackson has been Curator of Decorative Arts at Waddesdon Manor since 2017. She studied French and Philosophy at Oxford University then an MA in eighteenth-century French decorative arts at the Courtauld Insitute of Art. Her doctoral thesis entitled 'André-Charles Boulle (1642-1732) and Paper: Prints and Drawings in the Workshop of an Ébéniste du Roi' was completed at Queen Mary University of London in 2016. She previously worked in the Prints and Drawings Department at The British Museum, the Wallace Collection and English Heritage. She worked on the Riesener Project with the Wallace Collection and the Royal Collection, and is currently preparing a series of exhibitions on Alice de Rothschild with her colleagues at Waddesdon Manor.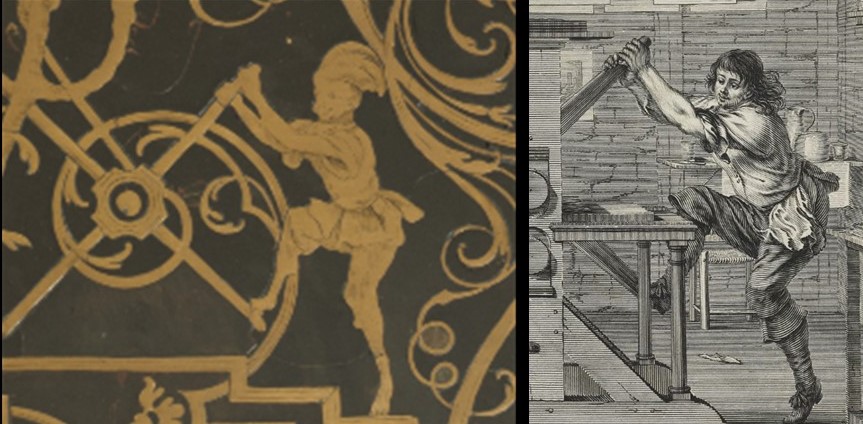 Left: André-Charles Boulle, detail of a table, veneered in turtleshell and brass, with gilt-bronze mounts, The Wallace Collection, F56.
Right: Abraham Bosse, 'Cette figure vous montre comme on Imprime les planches de taille douce…', etching, 1642,
British Museum, R,8.15
This event is free to members, and £5 for non-members. To make a payment, please click here. Event code AVUJEN