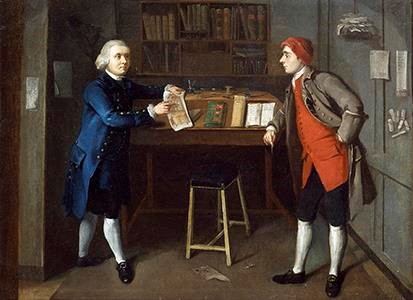 A Cabinet-maker's Office, c. 1770 © Victoria & Albert Museum
New content is soon to be published on British and Irish Furniture Makers Online https://bifmo.data.history.ac.uk , building on the 50,000 biographical accounts of English furniture makers drawn from Geoffrey Beard's and Christopher Gilbert's 1986 Dictionary of English Furniture Makers, 1660 – 1840, and over 12,000 London Joiners' Company accounts, 1640- 1720. Led by Dr Adam Bowett, BIFMO's editorial team has recently written 2,000 biographies; twenty-five per cent revised versions of the Dictionary, while the others are entirely new accounts of furniture makers across Britain and Ireland, dating from 1600 to 1914. New content is also being added from previously published sources: Francis Bamford's Dictionary of Edinburgh Furniture Makers, 1660-1840, John Stabler's, A Dictionary of Norfolk Furniture Makers, 1700-1840, and 3000 London Upholders' Company accounts, 1704-1772. Consequently, by the end of 2019 BIFMO will contain over 70,0000 records.
Extending the timescale of BIFMO from the middle years of the nineteenth century to the early years of the twentieth century is a major focus of this developmental project. Therefore, in addition to work being carried out by the editorial team, BIFMO's research officer, Dr Laurie Lindey, is examining furniture manufacturers and suppliers to London department stores, 1850-1920: Heals. Liberty, James Shoolbred, & Co., and Maples & Co. Details from this study will be developed into biographical accounts and case studies to be published on BIFMO throughout the second half of 2020.
Several innovative technical enhancements are being made as part of our aim to make the database more accessible and of interest to a wider public. The search facility of the online database has been redesigned to enable both simple and complex searches, thereby making it far easier to locate information and use the resource as an analytical research tool. BIFMO has also recently introduced interactive maps which pinpoint over 5000 London furniture makers across the English capital from 1660 to 1840. This has been achieved through our partnership with one of the Institute of Historical Research's project, Layers of London: https://www.layersoflondon.org/. BIFMO is also beginning to include digital links to documented pieces of furniture and trade cards associated furniture makes biographical accounts.
Thus, BIFMO is already developing into much more than the stories of individuals; these additional functionalities will enable viewers – whether the general public or furniture researchers – to explore the ways in which these stories form part of the history of trade and manufacture, consumption, demand, taste and design in Britain and Ireland. We have a monthly blog on our website and we encourage responses and information to be sent to us by all our readers. As we move forward into the next stage of the project, BIFMO will become part of a series of educational and outreach programmes and study days. New research will also be added to the content of the database as we expand the information on the key figures of furniture history, explore the 19th century and use the study days to add further information.
BIFMO has already attracted a great deal of support and interest from many different quarters. The project could not have got as far as it has without the generous support of trusts, foundations and individuals, many of them members of the Society. BIFMO is now a core member of the newly formed Consortium of Online Decorative Arts (CODA) created after a meeting at Winterthur of 15 different database groups in order to collaborate and create a central repository for those seeking information on the decorative arts. This is only one area of collaboration that we are pursuing as part of our commitment of make BIFMO the tool of the future.
Come to our conference on the 17th of October to learn more about BIFMO and how it can be used. The event will take place at Senate House, University of London.
For further information, the programme and how to register, please click here.
The free at access, fully searchable BIFMO database is now live and online. Visit https://bifmo.data.history.ac.uk to view.
--
Adriana Turpin, FHS Project Manager for BIFMO