Furnishing the British Country House: from 1700 to 1900
British and Irish Furniture Makers Online (BIFMO) is delighted to be offering an online course this June which looks at the evolution of the British country house from 1700 to 1900.
To purchase tickets for this course and additional seminars on Eventbrite, please click here.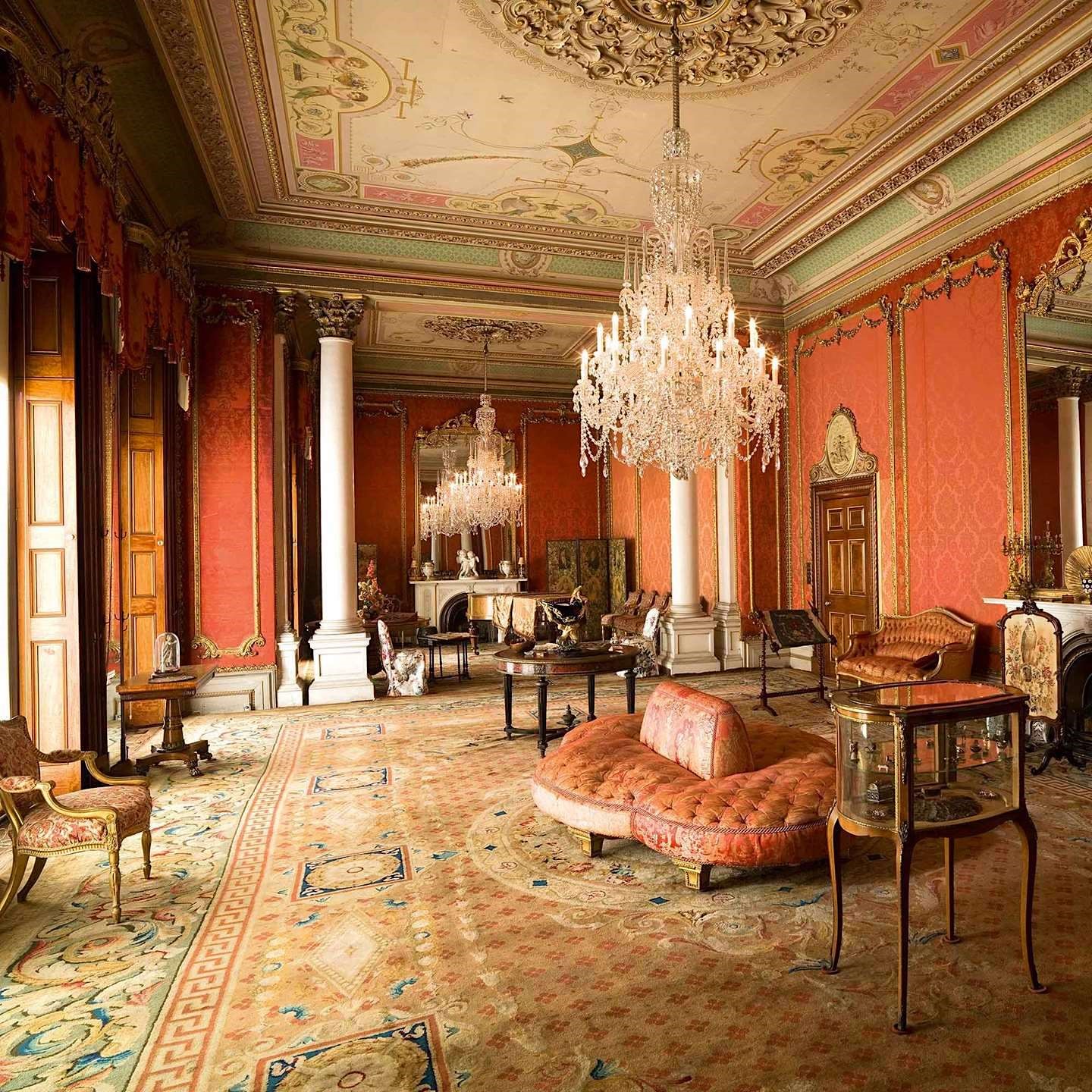 The restored drawing room at Brodsworth Hall, Doncaster © Historic England Archive
For two hours on three consecutive days, curators and historians will consider the furniture and designs commissioned for the interiors of specific country houses. They will touch upon the relationships between the architects and the craftsmen as well as the networks of furniture makers and the impact of the changing clientele. Over the course of these two centuries, the industrial revolution and social reform recast British society, creating new groups of wealthy property owners. By the nineteenth century the British stately home was no longer exclusively the domain of the aristocracy but a haven for the successful businessman and his family. The course speakers will consider the fashions and styles used to furnish these properties set against the backdrop of the changing role of the British country house.
The three sessions on 14th, 15th and 16th June, will be held on Zoom between 12 noon and 14.00 GMT (07.00 – 09.00 EDT). All three days will be introduced by Dr Megan Aldrich who will provide an historic and stylistic context for the case studies of houses presented by the curators. These sessions will be recorded and links to the recordings will be sent to ticketholders shortly after the event.
Each day BIFMO is also offering the opportunity to participate in an additional online session in the form of a seminar where a much smaller group will be able to discuss the points raised by the presentations. These seminars will follow the course each day and will be guided by experts, who will also give further short presentations on a theme. Ticketholders for the seminars will be able to turn on their microphones and videos to fully participate in the discussion. Tickets for these seminars are available on the course Eventbrite page but must be bought in addition to the main session. Places are extremely limited and are allocated on a first come first served basis. These seminars will not be recorded.
Here is an overview of the course and seminar programme :
Day 1: Tuesday 14th June – Early Eighteenth Century Country Houses
COURSE:
12.00 - 12.45 Introduction by Dr Megan Aldrich
12.45 - 13.15 James Pascall in London and Temple Newsam, Dr Tessa Murdoch
13.15 - 13.45 The Early Furnishing at Holkham Hall, Katherine Hardwick
13.45 - 14.00 Panel discussion and Q&A
SEMINAR:
14.20 - 15.30 The country seat: researching the country house: history, architecture and furniture, Jeremy Musson with Adriana Turpin
Day 2: Wednesday 15th June – Historicism and Revival in the British Country House
COURSE:
12.00 -12.45 Introduction by Dr Megan Aldrich
12.45 -13.15 Increasingly Aspirational: Eighteenth century Nostell, Robert Adam and the Winn Family, Dr Kerry Bristol
13.15 - 13.45 A mid-Victorian vision of a comfortable country house: the furnishings of Brodsworth Hall by Lapworths of Bond Street, Eleanor Matthews
13.45 - 14.00 Panel discussion and Q&A
SEMINAR:
14.20 - 15.30 Looking at furniture in the context of the country house, Peter Holmes with Adriana Turpin
Day 3: Thursday 16th June 2022 - Tradition & Innovation: different approaches to late 19th century interior design
COURSE:
12.00 - 12.45 Introduction by Dr Megan Aldrich
12.45 - 13.15. Furnishing the Arts and Crafts interior: Morris & Co at Standen, Dr Caroline Ikin
13.15 - 13.45 Mackintosh and the design of Hill House, Joseph Sharples
13.45 - 14.00 Panel discussion and Q&A
SEMINAR:
14.20 - 15.30 Researching the furniture trade, Clarissa Ward with Adriana Turpin.
Tickets for both the course and the seminars will be available on Eventbrite, and you may buy tickets for individual days or benefit from a discount when booking all three sessions at the same time.
More detailed information about the speakers and their presentations:
Dr Megan Aldrich
Introductions – every day
Megan will introduce all three days of the course, setting out an outline for the two hour session while providing an historical context.
Megan is a part-time tutor in the Department of Continuing Education, University of Oxford, and Hon. Editorial Secretary of the Furniture History Society. She researches aspects of antiquarian design and historicism across the areas of architecture, interiors, decorative art and design and garden history, and has published widely in these areas. She is a Fellow of the Society of Antiquaries and formerly Academic Director, Sotheby's Institute of Art, London
Dr Tessa Murdoch
James Pascall in London and Temple Newsam
Summary: James Pascall (active 1733-54) worked at the sign of the Golden Head, at the junction of Hanover Street and Long Acre in the heart of Covent Garden. A plan of his workshop and yard is preserved amongst the Bedford Estate Papers. Pascall had close connections with engravers, publishers and goldsmiths. The links between carvers, engravers, gilders and goldsmiths have not been fully explored so this presentation will place Pascall in the context of contemporary artists and craftsmen and demonstrate that as a maker he was able to undercut the retailers by delivering his furniture directly to the patron, as the surviving bills for the sumptuous suite he supplied for the Long Gallery, Temple Newsam House, in 1746/7 reveal.
Biography: Tessa received her PhD on 'Huguenot artists, designers and craftsmen in Great Britain and Ireland, 1680–1760' at Westfield College, University of London, 1982. At the Museum of London from 1981, she curated the exhibition The Quiet Conquest: The Huguenots 1685–1985. She was elected a fellow of the Society of Antiquaries in 1988. She joined the V&A in 1990, working in Furniture and Woodwork for eleven years before taking up the post of Deputy Keeper in the newly combined department of Sculpture, Metalwork, Ceramics and Glass in 2002. She was lead curator for the V&A's 2005 Sacred Silver and Stained Glass Galleries and the 2009 Rosalinde and Arthur Gilbert Galleries.
Her publishing and curating experience and output is extensive; ranging from editing Noble Households: Eighteenth Century Inventories of Great English Houses: A Tribute to John Cornforth (2006) to Beyond the Border: Huguenot Goldsmiths in Northern Europe and North America (2008) she co-edited and contributed to Burning Bright: Essays in Honour of David Bindman (2015) published by UCL press. She was lead curator for the 2012/2013 exchange of exhibitions between the V&A and the Moscow Kremlin Museums. The Golden Age of the English Court from Henry VIII to Charles I, shown in Moscow in 2012–13 and returned to London in 2013 as Treasures of the Royal Courts: Tudors, Stuarts & the Russian Tsars. Tessa has written many articles about the influence of the Huguenot craftsmen in Europe and Britain; in particular her article about 'Jean, René and Thomas Pelletier, a Huguenot family of carvers and gilders in England 1682-1726', The Burlington Magazine, Part 1 (November 1997); Part II (June 1998). We should also like to congratulate Tessa on the recent publication of her book Europe Divided: Huguenot Refugee Art and Culture.
Katherine Hardwick
The Early Furnishing at Holkham Hall
Summary: Holkham Hall was built by Thomas Coke, 1st Earl of Leicester between 1734 and 1764. Although he would not see his house completed, he oversaw the purchase of almost all of the artworks and furnishings which would fill its rooms. Coke commissioned a number of important London craftsmen to create pieces for his house, including a longstanding collaboration with the maker and upholsterer Paul Saunders. This talk will explore the early furnishing of Holkham and the relations between both important London craftsmen, and the local men who came to replace them.
Biography: Katherine is Collections Coordinator at Holkham Hall, Norfolk, a role she has held for four years. She read her undergraduate degree at Durham University, and her masters at Cambridge University. She also acts as Early Career Development Coordinator for the Furniture History Society, a position she has jointly occupied since Summer 2021.
Jeremy Musson
Seminar: The country seat: researching the country house: history, architecture and furniture

This seminar will be led by architectural historian Jeremy Musson and furniture historian Adriana Turpin. Jeremy will give an informal presentation to introduce some further country house case studies and illustrate his approach to researching architecture and history generally. This discussion will broaden to encompass research tools and resources for studying furniture in the country house including examples of commercial bills and inventories. Seminar attendees will be invited to ask questions and participate in the discussion.
Biography: Jeremy is an architectural historian, broadcaster and architectural editor of Country Life, 1998-2007. He studied law at University College, London, and holds an M.Phil from the Warburg Institute. Author of many books on the country house, he remains a regular contributor to Country Life and other journals. He is a former National Trust curator (AHBR for East Anglia), and an affiliated lecturer with the department of architecture and art history, the University of Cambridge, and a regular contributor to the Building History Master's course. He also works as a consultant on Conservation Management Plans with Caroe Architecture Ltd, and Cambridge Architectural Research Ltd (including Hardwick Hall, Blickling Hall, Oxburgh Hall, as well as Emmanuel College Cambridge and St Paul's Cathedral).
Dr Kerry Bristol
Increasingly Aspirational: Eighteenth-Century Nostell and the Winn Family
Summary: Sir Rowland Winn, 4th baronet, began to build a new house on his West Yorkshire estate in the 1730s. As designed by Col. James Moyser and James Paine, Nostell was larger than the converted monastic buildings in which the family had resided since 1654 and no doubt reflected Sir Rowland's growing political ambitions. It was furnished by local cabinetmakers such as Robert Barker of York and items designed by Paine that may have been made in Wakefield. Progress on the new house was slow and when Sir Rowland Winn, 5th baronet, inherited in 1765 he turned to the London-based Robert Adam and Thomas Chippendale to create the opulent interiors that are now recognised as one of Chippendale's best-documented commissions. In an attempt to rival Harewood House, the other great Adam-Chippendale collaboration in Yorkshire, Sir Rowland's taste soon outran his purse and his financial profligacy contributed significantly to Chippendale's own financial difficulties in the 1770s. The 6th baronet inherited a debt-ridden estate in 1785 and it was left to his nephew to complete the house in the 1820s. Drawing on the extensive family archive, this lecture will explore the interaction between architect and cabinetmaker in the eighteenth century, the relationship between townhouse and country house, Nostell and Harewood, and shopping local to buy global.

Biography: Kerry is a senior lecturer in the School of Fine Art, History of Art and Cultural Studies, where she has taught architectural history since 1999. Her research interests include the Grand Tour and the development of neo-classicism, patronage and the rise of the architectural profession, women as patrons and consumers in the long eighteenth century, and country house culture in Britain and Ireland between the Elizabethan era and the present day. She is currently researching a book on everyday life at eighteenth-century Nostell, where she is honorary historical advisor to the National Trust.

Eleanor Matthews
A mid-Victorian vision of a comfortable country house: the furnishings of Brodsworth Hall by Lapworths of Bond Street
Summary: From crimson star design carpets to coloured chintzes, this talk will explore the extensive commission by Lapworths of Bond Street for the Thellusson family of Brodsworth Hall, South Yorkshire. Predominantly known as a textile manufacturer, Lapworths' involvement encompassed the whole house, ranging from the French-inspired drawing room to the housekeeper's bedroom, providing tables, feather brushes '& every other novelty for curtains'. The talk will share what furnishing Brodsworth meant for the Thellusson family, as well as introducing Lapworths: a little known, but highly regarded, furnishing firm who successfully gave the house its distinctive character and made it a comfortable home.
Biography: Eleanor Matthews is a Curator of Collections and Interiors for English Heritage, covering South Yorkshire and the North Midlands. Her work involves researching, exhibiting, managing and sharing a broad range of collections and sites, from castles to a country house, with a particular responsibility for Brodsworth Hall and Gardens. Eleanor has degrees from the University of Nottingham and the University of Oxford. Prior to being at English Heritage, she worked for the National Trust and the Wordsworth Trust.
Peter Holmes
Seminar: Looking at furniture in the context of the country house
Further information available soon.
Dr Caroline Ikin
Furnishing the Arts and Crafts interior: Morris & co at Standen
Summary: Standen in West Sussex was the country home of the Beales, a prosperous middle-class family. Their architect Philip Webb was closely involved with Morris & Co, and the house he created was the ideal setting for the furniture and decoration of the firm. The Beales' collection has been augmented by the National Trust with additional arts and crafts furniture, ceramics, textiles and metalwork and presents a fine example of middle-class patronage and taste.

Biography: Dr Caroline Ikin is the National Trust Curator for Standen. She specialises in nineteenth century art, architecture and gardens, has lectured widely and is the author of several publications including The Victorian Garden (2012) and The Victorian Gardener (2014).
Joseph Sharples
Mackintosh and the design of Hill House
Summary: The Hill House at Helensburgh (1902-4) is widely regarded as one of the outstanding domestic buildings of the early 20th century. Designed by Charles Rennie Mackintosh for the Glasgow publisher Walter Blackie, it draws inspiration from 17th-century Scottish tower houses, but its refined and sophisticated architecture is free from historicism. Mackintosh also designed the interiors, and they embody his ideal of combining architecture, furniture and decoration to produce a complete work of art. This talk will examine Mackintosh's interiors at The Hill House with reference to his original drawings and other documents.

Biography: Joseph is Curator of Mackintosh Collections and Applied Art at The Hunterian, University of Glasgow, and an architectural historian specialising in the Victorian period. He has written on the buildings of Liverpool and Aberdeen for the Pevsner Architectural Guides series, and published articles and curated exhibitions on 19th and early 20th century architecture. From 2010 to 2013 he was lead researcher on a major research project at The Hunterian: Mackintosh Architecture: Context, Making and Meaning.
Clarissa Ward
Researching the furniture trade
Further information to follow.
To purchase tickets for this course and additional seminars on Eventbrite, please click here.