Click here to purchase tickets for this event.

This autumn BIFMO is offering an online course
Skill, Style and Innovation: British Furniture Making (1660 – 1914)
This online course will run on Zoom every Wednesday from 4pm to 7.30 pm (GMT) for five weeks from 3rd November to 1st December 2021.
The course will move chronologically from the Restoration period through to the Arts and Crafts movement. Each week three specialist speakers will deliver three presentations followed by a Q&A session. Our exciting programme of presentations is as follows:
3rd November: British Baroque Furniture (c. 1660 – 1715)
Dr Wolf Burchard
British Baroque Furniture and Furniture Makers
This talk will focus, in particular, on the furnishings of the royal palaces and court circles, referencing the work of skilled designers and craftsmen such as Daniel Marot, Gerrit Jensen, Francis Lapiere, as well as Thomas and Richard Roberts.
Wolf Burchard is Associate Curator at The Met Museum and previously worked for the National Trust and the Royal Collection. He was a member of the FHS Council and sits on the Editorial Panel of Furniture History. He co-organised several trips for the society, including to Hanover, Vienna and Lisbon.
Amy Lim
The Baroque Interior: furnishing the great London and country houses

Many of England's best-loved country houses were built or rebuilt in the decades following the Restoration, and their aristocratic owners lavished just as much money and attention on the interiors as the exteriors. Less well known are the London townhouses where the nobility lived for most of the year, since demolished and their contents dispersed. This lecture will examine the patrons of these great town and country houses, and their 'more is more' approach that characterised Baroque interiors. We will look at their networks and influences, and the teams of artists and craftsmen who moved from house to house, filling them with mural paintings, decorative plasterwork, wood-carvings and furniture, in a visual cacophony of colours, textures and finishes.
Amy Lim is a doctoral candidate researching Art and Aristocracy in Late Stuart England in an AHRC-funded Collaborative Doctoral Partnership at the University of Oxford and Tate. Her thesis will centre on case studies of three aristocratic couples, analysing their patronage of architecture, interiors, painting, sculpture and gardens in order to understand the networks, aspirations and world-view of the late Stuart nobility. Amy's research supported the exhibition British Baroque: Power and Illusion (Tate Britain, January-March 2020) and she has published articles and essays on British art and architecture in the Georgian Group Journal, First World War Studies, Art & the Country House (Paul Mellon Centre, 2020). Most recently she has contributed to the latest FHS Journal with her essay The furniture patronage of Elizabeth Seymour (née Percy), duchess of Somerset (1667-1722).
Dr John Cross
The London trade c. 1660- 1720
This talk has one main aim, which is to explore how the supply of timber to the furniture trade in the late seventeenth and early eighteenth century influenced the furniture made at that time. By studying this aspect of furniture history we may also see how the London furniture makers workshop adapted to the changing circumstances and how they profited as a result. It's a story of proto-industrialisaton and a response to colonial expansion that can also be seen in other trades in Britain at that period.
John Cross is a maker, conservator and historian of furniture. He studied the making and conserving of furniture at the London College of Furniture and the theory and design history at the Royal College of Art.
10th November: Early Eighteenth Century & the Furniture Trade (c. 1715 – 1760)
Adriana Turpin
Furniture for the London Merchants
During the second half of the seventeenth century, London increasingly became a centre of international trade and banking, with merchants and bankers building large houses and furnishing their interiors with the latest fashionable goods. Existing inventories of their houses demonstrate the range and types of furniture, textiles and art that they used to furnish social and private spaces. Furniture makers responded with alacrity, supplying fashionable and utilitarian goods. Of the thousands furniture makers of the period (BIFMO lists 3800 active between 1660 and 1730 and that is a fraction of the estimated 40,000 makers working in London at the time), the works of very few are known, but they include some of the most famous makers of the period, including Giles Grendey and John Channon. This talk outlines some of the main production and makers and explores how makers developed their trade practices to allow for the greatest efficiency in manufacture.
Adriana Turpin has been teaching at the Institut d'Études Superieures des Arts in Paris, where she established an MA on the History and Business of Art and Collecting, validated by the University of Warwick. Adriana is a furniture specialist, having taught history of furniture and design for twenty years at Sotheby's Institute London, concentrating on European furniture of the seventeenth and eighteenth centuries. Her publications include articles for Furniture History on Cornelius Gole and Thomas Pistor, Father and Son; 'Furniture for the London Merchants 1660-1730', in The City Merchant and the Arts, ed. M Galinou (2004) and an essay on William Beckford's furniture for the exhibition catalogue, An Eye for the Magnificent, Bard Graduate Centre, New York (2002), ed. D. Ostergard. More recently she has been researching 19th Century markets for furniture, with several articles on the collecting of Italian, French and now English furniture in England and the USA.
Prof Jeremy Howard
Fantasy and Exuberance: English rococo furniture makers as craftsmen and designers
In this lecture Jeremy Howard re-examines the relationships between craftsmen and designers in England during the age of the rococo and analyses the sources and influences (French, oriental and Gothic) which underlay that astonishingly eclectic and exuberant style. The talk will explore the virtuoso carvings and exuberant designs of Matthias Lock and Thomas Johnson, the seminal designs and productions of Chippendale and his workshop and the early work of the Linnell workshop, the Francophile interiors at Chesterfield House and Norfolk House, which provided a backdrop to rococo furniture in England, the contribution of foreign craftsmen such as Pierre Langlois, and the unbridled fantasy of Luke Lightfoot's carved chinoiserie decorations at Claydon House.
Jeremy Howard is Professor of History of Art at the University of Buckingham where he has taught, on-and-off, since 1995. In 2000 he launched an MA in French and British Decorative Arts and Historic Interiors of the long eighteenth century in collaboration with the Wallace Collection, which has now been going for over twenty years. A scholar of eighteenth-century British decorative arts and interiors, he has also lectured and published widely on aspects of the history of collecting. He also works for Colnaghi, as an Old Master paintings specialist and as their Head of Research, Archives and Academic Projects.
David Wheeler

Exploring Seventeenth and Eighteenth Century Furniture making

In his presentation, David Wheeler will examine pieces from the Royal Collection Trust to explain their making, materials and techniques. He will consider pieces by well known makers such as Gerrit Jensen, Benjamin Goodison and William Vile. Drawing on the wealth of material in the Royal Collection, he will cover topics such as carving and gilding, veneers and marquetry with the aim of better understanding the complexities and inventiveness of British furniture making at this time.
David Wheeler is The Senior Conservator of Decorative Arts in the Royal Collection at the Marlborough House Conservation Workshops. Trained at the London College of Furniture, he has worked on many pieces of Furniture and decorative objects from the Royal Collection over the last 35 years and was closely involved in the restoration of works of art after the fires at Hampton Court and Windsor Castle. He has been responsible for the preparation of many artefacts for decorative arts exhibitions at the Queen's Gallery at Buckingham Palace. He has recently given an online talk on the restoration of the Sunflower Clock as part of the French porcelain Society's online 'Lockdown lecture' programme and has a paper on lacquer and giltwood furniture published in the FHS journal 2019.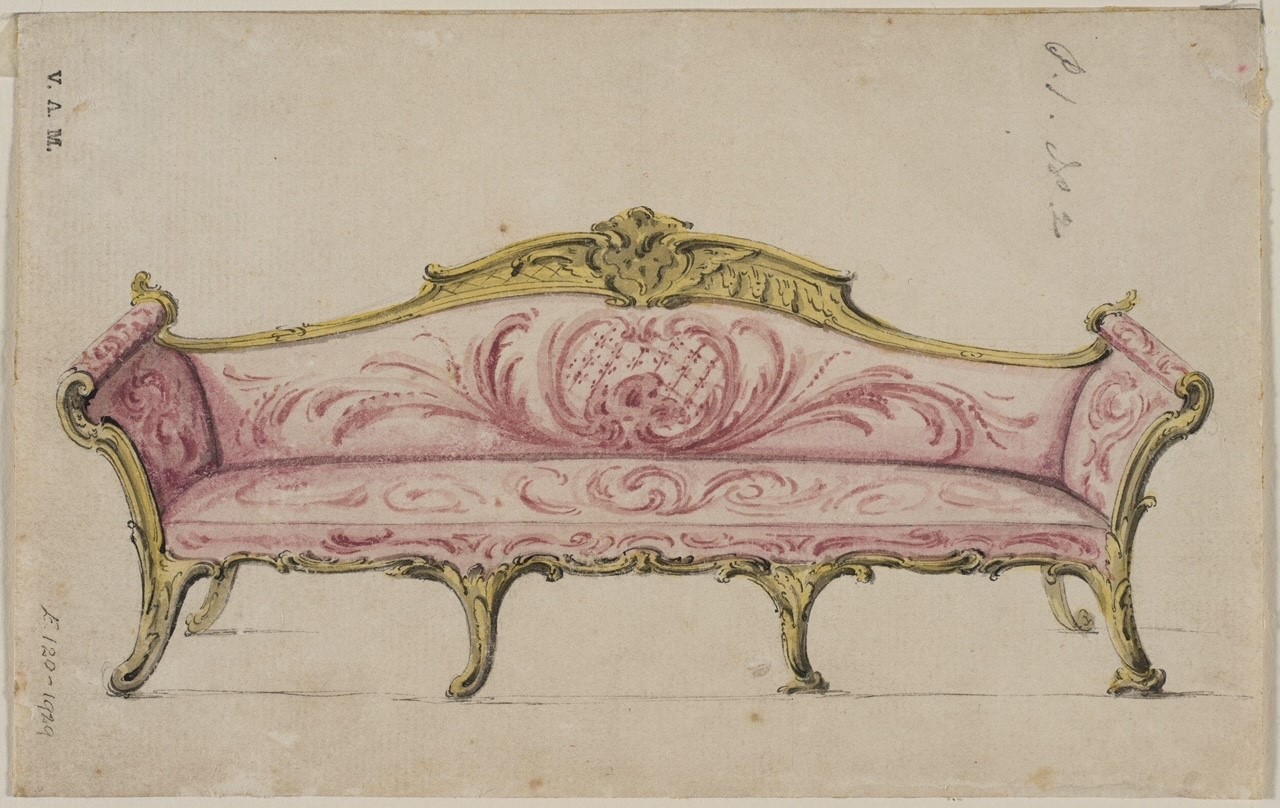 Design for a sofa, by John Linnell (1729-96), © V & A, London

17th November: Architects, Furniture & Patrons (c. 1760 – 1815)
Dr Megan Aldrich
The Furniture Maker and the Architect in the Palladian and Neoclassical Periods
During the first third of the eighteenth century, British furniture production began to respond to leading developments in architectural design. Makers began to work collaboratively to provide furnishings for interiors that were designed by architects, resulting in a professionalisation of the furniture-making industry -- principally in London -- during the eighteenth century. This lecture will look at the changing role of furniture makers working during the Palladian (c. 1725-65) and Neoclassical (c. 1760-85) periods under the direct supervision of architects like William Kent and Robert Adam, when the individuality of workshop production was subsumed under new design imperatives and a concern for harmonious, unified interiors.
Megan Aldrich is a part-time tutor in the Department of Continuing Education, University of Oxford, and Hon. Editorial Secretary of the Furniture History Society. She researches aspects of antiquarian design and historicism across the areas of architecture, interiors, decorative art and design and garden history, and has published widely in these areas. She is a Fellow of the Society of Antiquaries.
Lucy Wood
London furniture makers in the time of Chippendale

Lucy Wood had a museum career as Curator of the Lady Lever Art Gallery, Port Sunlight (part of the National Museums, Liverpool), and later as a Senior Curator in the Furniture, Textiles and Fashion Department at the V&A. She has published widely on topics related to furniture and the history of collecting. At the Lady Lever Art Gallery she produced detailed catalogues of two aspects of the outstanding collection of (mainly) English furniture – the commodes and the upholstered items. She now works as a freelance furniture historian and consultant.
Rufus Bird
'As refined and classical as possible': George IV and other patrons of British furniture makers in the Regency period 1800-1830

Furnishings in the Regency period reached a zenith of luxuriousness and expense - perhaps subsquently never matched. This was in part thanks to the use, understanding and appreciation of complicated and expensive upholstery and in part thanks to the ambitions - and wealth - of patrons. Chief among these British Maecenases of the furnishing world was George IV, who, when Prince of Wales furnished and refurnished rooms within Carlton House several times over. He then oversaw an even more ambitious programme of furnishing at Windsor Castle before his death in 1830. Other patrons of elevated noble rank followed in his wake, seeking to emulate, and in some cases exceed, the richness sought by the Prince. This talk will look at the furnishings supplied for Carlton House and Windsor Castle, the furniture makers employed by George and their designs, and will also seek to consider how Carlton House and Windsor Castle sit alongside other major British furnishing projects carried out in the first quarter of the 19th century.
Rufus worked at the Royal Collection Trust from 2010 to 2021: where he held the post of Deputy Surveyor of the Queen's Works of Art to 2017 and thereafter Surveyor of the Queen's Works of Art (to 2021). In Royal Household employ he was responsible for the presentation, interpretation and conservation of all decorative arts in the Royal Collection, one of the largest private art collections in the world. Throughout this time Rufus worked on the catalogue raisonné of Chinese & Japanese works of art in the Royal Collection, published several articles in Furniture History, contributed to exhibition catalogues, co-curated the 2017-18 exhibition Charles II: Art & Power, and lectured and taught on The Attingham Trust's renowned annual study course Royal Collection Studies. Prior to joining Royal Collection Trust, he was Director at Christie's auctioneers in London where he was responsible for English furniture sales and was involved in the cataloguing of various private collections and country house collections, including the abortive sale of the contents of Tyntesfield in 2002 and Dumfries House in 2007. Since leaving Royal Collection Trust, Rufus has joined Duke's Auctioneers in his resident county of Dorset where he is Senior Director of Heritage & Valuations and is establishing a new collection care service for private collectors and historic houses. He continues as a consultant on furniture & historic interiors to Royal Collection Trust.
24th November: The Development of Furniture Firms, Historicism and Reform (c. 1815– 1860)
Dr Max Bryant
Beyond Hope: Architects and Furniture in the Age of Historicism and Reform
This talk will cover the furniture of the turbulent years between 1815 and 1850, beginning with the impact of designer and patron Thomas Hope. It was a time when revivalist movements in architecture inspired and challenged designers to create new forms, and when increasing numbers of customers were able to participate in battles over style.
Dr Max Bryant is currently a fellow at Downing College, Cambridge, in the Centre for the Study of Classical Architecture. He has held fellowships at the Metropolitan Museum of Art and Armagh Robinson Library.
Ann Davies
Furniture for the Great Exhibition 1851

"The history of the world records no event comparable, in its promotions of human industry, with that of the Great Exhibition of the Works of Industry of all Nations in 1851." This was Henry Cole's assessment of this remarkable achievement. By looking at a selection of the furniture on display, Ann will consider the designs and materials used as well as the impact of this event on the furniture makers and furniture making in Britain.
Ann has worked for BIFMO since 2019 in an administrative capacity. She gained her undergraduate and post graduate degrees from the Courtauld Institute. Her MA course specialised in art in nineteenth-century Britain.
Max Donnelly
Furniture at the London International Exhibition, 1862 (this presentation will not be recorded)
Mired in politics and controversy, the second international exhibition held in London has often lurked in the shadows of its predecessor, the Great Exhibition. Nevertheless, as critics maintained at the time, the design of many British exhibits in 1862 demonstrated a marked improvement compared with those shown in the Crystal Palace. Dipping into the rich source of visual material related to the exhibition, we will look at examples of this perceived progress and consider the part played by factors including Government Schools of Design and technological innovations. In examining products displayed by British cabinetmakers, carvers and upholstery manufacturers, we will encounter several exhibition highlights, from the medieval style painted furniture displayed in the Medieval Court to the carving machines in the Western annexe.
Max Donnelly is Curator of Furniture and Woodwork 1800-1900 at the Victoria and Albert Museum. He practiced and studied fine art in Edinburgh and London before working for dealers in New York and New Bond Street and appearing on the BBC's Antiques Roadshow. V&A publications include a chapter on furniture in C.F.A. Voysey: Arts and Crafts Designer (2016), contributions to The Story of Scottish Design (2018), and the book Christopher Dresser: Design Pioneer (2021). Max is co-editor of the monograph Daniel Cottier: Designer, Decorator, Dealer, published by the Paul Mellon Centre (2021).
1st December: From Manufacture to the Arts & Crafts (c. 1860 – 1914)
Prof Clive Edwards
Continuity and change in ninetheenth century furniture production
This talk considers developments in the organization and nature of furniture making and the elaboration of techniques and processes of manufacture. The changes implied in the adoption of powered machinery and innovative techniques relating to preparatory work, construction, decoration, and finishing are compared with the continuity of craft traditions in the making processes. Taken together, these approaches offer a picture of the enduring nature of an industry that reacted to technological change based on need rather than notional ideas of progress.
Clive Edwards is Emeritus Professor of Design History at Loughborough University. After a career in the retailing of furniture and interiors he took an MA in the History of Design at the Royal College of Art/Victoria and Albert Museum and subsequently completed a PhD on Victorian furniture technology. He has published widely with works including monographs on aspects of furniture technology, materials and trades, furnishing textiles and the manufacture and retailing of domestic furnishings, as well as contributions to multi-authored works on interiors, architecture and home furnishings. His interest in cross-disciplinary study is evident in his work, which includes research on design, materials and technology, manufacturing, consumption, and retailing.
Matthew Winterbottom
At Home in Antiquity: furniture designed by Sir Lawrence Alma Tadema
This talk discusses the spectacular suite of Greco-Roman furniture commissioned by Railroad and insurance tycoon Henry Gurdon Marquand in 1882 for the music room for his New York mansion together with other furniture designed by leading Victorian fine artists and the London-based firm that made them.
Matthew Winterbottom was appointed Curator of Nineteenth-Century Decorative Arts in the Department of Western Art at the Ashmolean Museum in March 2014. This new post was created to develop a collection of decorative arts in order to complement the Ashmolean's superb collection of Nineteenth-Century paintings, works on paper and sculpture. Matthew led the redevelopment and redisplay of the Museum's Nineteenth-Century Art Galleries that opened in May 2016. These galleries show for the first time decorative arts together with paintings and sculpture. Matthew started his career in the Victoria & Albert Museum in the Metalwork then Furniture & Woodwork Departments. He then spent seven years as Curator or Decorative Arts at the Royal Collection before moving to the Holburne Museum in Bath. There he led the redevelopment of the decorative art galleries as part of the Museum's extension and major refurbishment.
Annette Carruthers
Arts & Crafts furniture makers and designers
In the years around 1900 Arts & Crafts architects and designers worked with cabinet makers and joiners in a variety of ways to produce furniture to suit their own taste and the contemporary market. This talk will sample the range, including the rare designer-makers, the few who set up their own workshops, and those who had their work executed by independent cabinet makers or sold their designs to established firms.
Annette Carruthers worked as a curator of decorative arts in Leicester and Cheltenham and taught at the University of St Andrews until 2014. She has published widely on the Arts & Crafts Movement, most recently as co-author with Mary Greensted and Barley Roscoe of a new book entitled Ernest Gimson Arts & Crafts Designer and Architect (Yale University Press, 2019).
-----0-----
Tickets are available through Eventbrite - for the link, please click here - where it is possible to book individual weeks or the entire course at a saving.
Prices are as follows:
Non-FHS Members: Individual weeks, £30. Entire course, £120.
FHS members: Individual weeks, £20. Entire course, £80.
ECD members: Individual weeks, £10. Entire course, £40.
We are grateful for the support of the Paul Mellon Centre for Studies in British Art and the Foyle Foundation.