'What tone is salmon-coloured? Interpreting documentation in historic textile furnishing schemes', by Annabel Westman Sunday 7 March 2021, 19:00 (GMT)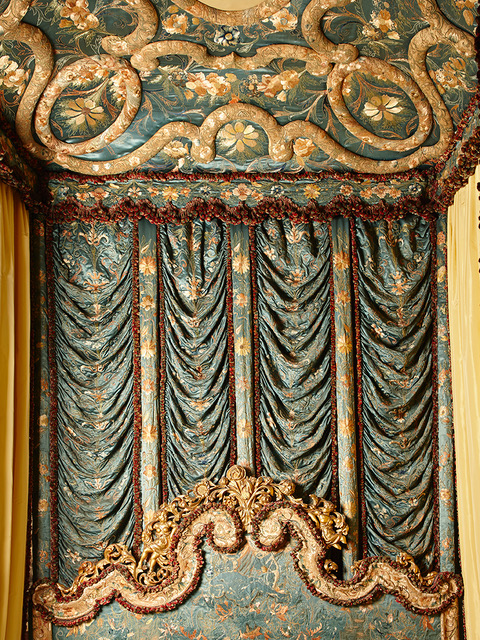 Detail of state bed in Queen Elizabeth's bedroom, Burghley House, Lincolnshire
Interpreting archival documentation can present many challenges when furnishing an historic interior. Colour and design, texture and technique are just some of the queries and considerations raised when restoring beds and window curtains, seat furniture and carpets to replicate an historic period. This talk will concentrate on colour and design with some historic house case studies to illustrate and show how sometimes questions have been resolved by the original trimmings supplied – and a red herring will be thrown in for good measure as well.
Annabel Westman is Executive Director of The Attingham Trust for the study of historic houses and collections, an educational charitable trust. She is also an independent textile historian and consultant specializing since 1980 in the reinstallation of many historic interiors for heritage bodies in UK and overseas for which she has carried out extensive research and advised on implementation. She lectures widely and has published extensively on furnishing textiles, including Fringe Frog and Tassel: the Art of the Trimmings-Maker in Interior Decoration (NT & PWP, 2019). She is a trustee of Stowe House Preservation Trust, a Fellow of the Society of Antiquaries and a former council member of the Furniture History Society.
FHS members will be sent shortly an email containing an Eventbrite registration link to the Webinar. This event is free.
Non members to express interest please contact events@furniturehistorysociety.org.