Making the Old New: the Twentieth Century Interior Designer's Promotion of Furniture and its History
The Furniture History Society's 46th Annual Symposium aims to assess the overall contribution made to furniture use, appreciation and design by Twentieth Century interior designers; how they assisted in the formation of major collections of furniture during the last century, led the way in its presentation, and assisted in re-interpreting and promoting older styles, particularly those of the eighteenth and nineteenth centuries. Further themes will be the interactions between interior designers and antique dealers, how this stimulated the market for antiques, and how interior designers contributed to growth of academic interest in furniture throughout the century. The day will feature papers from an engaging and international mix of experts, academics and practitioners.
A detailed programme for the day will be available on the FHS website imminently. Tickets to the Symposium will be available on Eventbrite in early March 2022.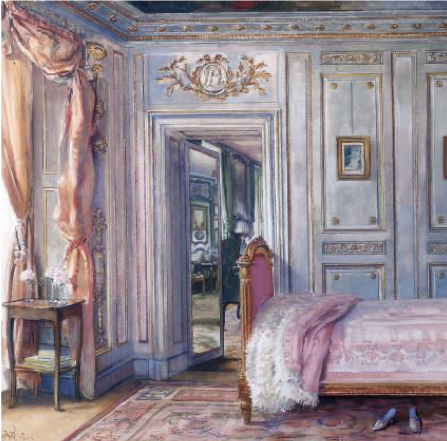 William Bruce Ellis Rankin, La Chambre de Lady Mendl, Elsie De Wolfe, c. 1920