'Malachite, Lapis-Lazuli, Verre églomisé, and Marquetry: Russian Furniture at Hillwood' Sunday 25 April 2021, 19:00 (BST)
This lecture will explore Hillwood's unique collection of Russian furniture assembled by Marjorie Merriweather Post (1887-1973). Post acquired Hillwood estate in Washington, D.C. in 1955 and it opened as a museum in 1977. This important bequest endowed the country with a distinguished eighteenth-century French fine and decorative art collection, Post's personal collection of apparel, jewelry, and accessories, and the most comprehensive collection of Russian imperial art outside of Russia. It includes over a century of rare Russian furniture from the late 1700s to the 1800s.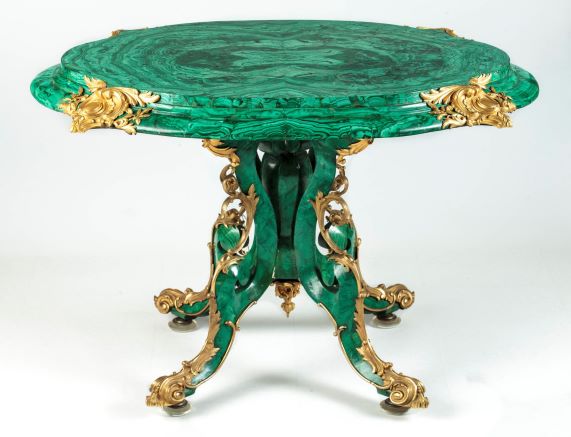 Table, Demidov Lapidary Factory (Russian, active 1847–53)
Leuchtenberg Bronze Factory (Russian, active 1845–52)
St. Petersburg, about 1851, Malachite, gilt bronze, wood, metal
Museum purchase in memory of Walter Beach and Eleanor Barzin, 2006 (32.33)

© Hillwood Estate, Museum & Gardens, Washington DC / photo. Brian Searby
Dr. Wilfried Zeisler is Hillwood's chief curator. He is a graduate of Sorbonne University and the Ecole du Louvre, Paris. Wilfried has written extensively on French and Russian decorative arts, including a 2010 book on French ceramics commemorating the French-Russian Alliance, several articles, and contributions to books. Wilfried's dissertation, L'Objet d'art et de luxe français en Russie (1881-1917) [French Objets d'art and Luxury Goods in Russia], was published in Paris in 2014. Since 2009, he has participated in and curated exhibitions in Paris, Monaco, and Washington DC. At Hillwood, his most recent exhibitions were Fabergé Rediscovered (2018), Bouke de Vries: War and Pieces (2019), and Natural Beauties: Exquisite Works of Minerals and Gems (2020). Wilfried co-authored Konstantin Makovsky: The Tsar's Painter in America and Paris (2015), and is the author of Fabergé Rediscovered and Vivre la Belle Epoque à Paris -- Paul de Russie et Olga Paley, both published in 2018. He is currently working on two book projects, one exploring the connections between the Yusupovs and Parisian culture and the second on the collection of Hillwood's founder, Marjorie Post (co-authored with Hillwood's curatorial team).
This event is free for FHS Members. Tickets for non-members cost £5. To pay for this event, please click here. The event code is ZAQAMU.