This half day course will provide an overview of furniture production during a particularly exciting period in British history. An expanding empire made exotic materials more accessible whilst a growing economy created considerable wealth. A group of talented British designers and furniture makers took these opportunities and created the most magnificent pieces to fill grand houses, whilst also overhauling the operation of the furniture trade itself. These presentations will touch on the output of the more famous figures, including Benjamin Goodison and William Kent, and provide a close analysis of specific commissions, including Thomas Chippendale at Harewood House.
Course outline
16.00: Adriana Turpin - Welcome and introduction to the course
16.05: Professor Stacey Sloboda - Paul H. Tucker Professor of Art at the University of Massachusetts Boston Art and Design in Eighteenth Century London

16.30: Dr Laurie Lindey, research officer for the British and Irish Furniture Makers Online (BIFMO) project, The Furniture Trade and Furniture Making in early Eighteenth Century London

17.00: Joint Q&A
17.05: BREAK
17.15 Adriana Turpin, Chairman of the Society's Grants Committee and Project Manager for Outreach and Development for BIFMO, Georgian Furniture Makers: an overview
18.00: Professor Ann Sumner, Visiting Professor at Manchester Metropolitan University, 'Really magnificent and no Expense has been spared' – the Chippendale Firm at Harewood House
18.45: Joint Q&A
18.55: BREAK
19.00: Sarah Medlam - Using One's Eyes: Learning from the Object. Investigating Mr Seddon's Chairs.

19.25: Adriana Turpin – Summing Up and Thanks
Please click here for registration and payment. After payment, a Zoom link to attend the course will be sent in a confirmation email following payment. Attendees will be admitted from the waiting room from 15.55. Please make sure you are muted and your camera is turned off.

There will be two Q & A sessions. Please use the chat message box at the bottom of your zoom window to submit questions, and send messages to others.

Please note that Zoom have upgraded their security software and you may be required to install an update.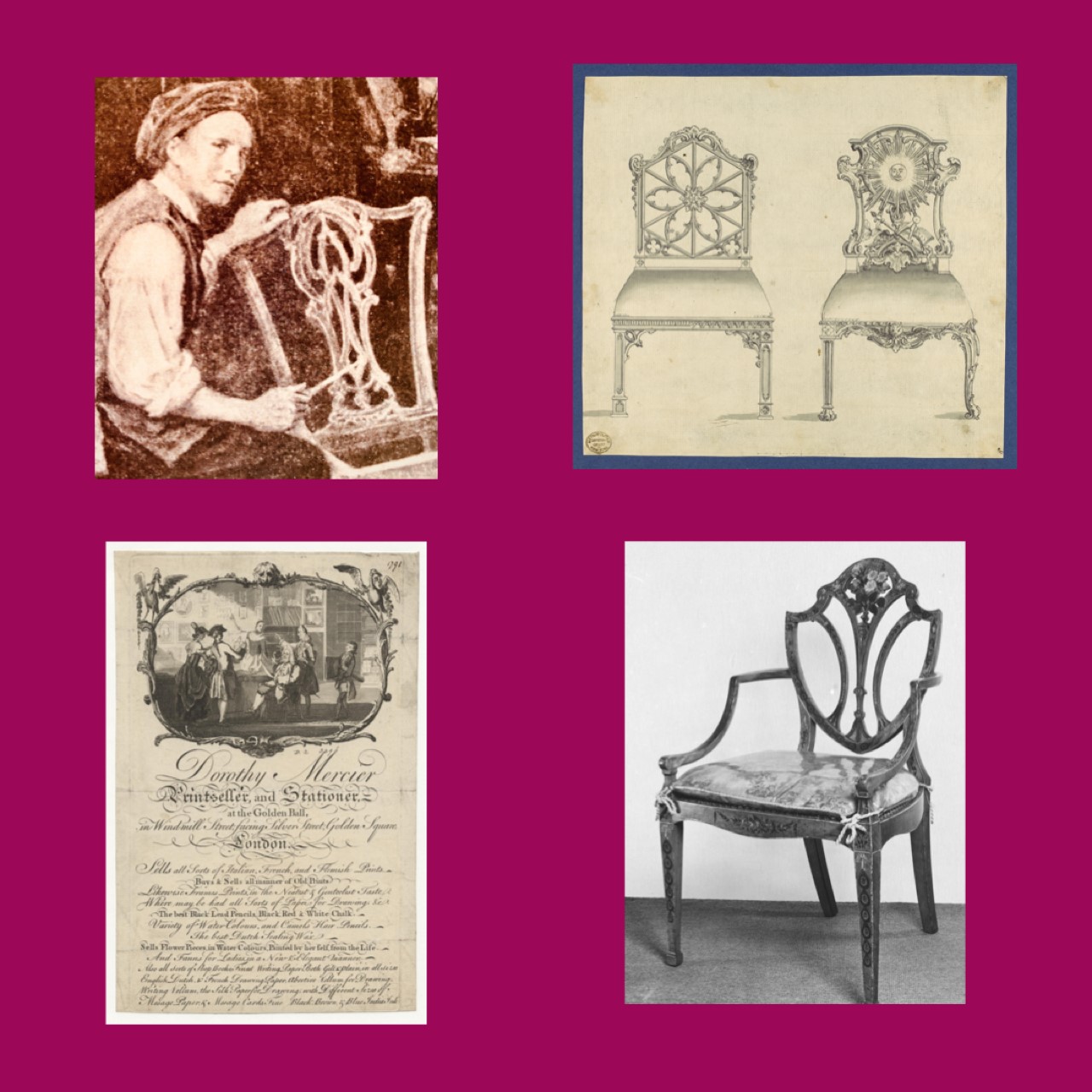 Additional information about the speakers and their individual segments:
PROFESSOR STACEY SLOBODA
Title: Art and Design in Eighteenth Century London
Summary: The eighteenth-century London art world comprised multiple distinct and overlapping neighbourhoods, where concentrations of artists, artisans, dealers, suppliers, and arts institutions flourished. This paper shall discuss the London art world from the perspective of its neighbourhoods to explore the connections between art, design, and trades in the mid-eighteenth century.
Biography: Stacey Sloboda is the Paul H. Tucker Professor of Art at the University of Massachusetts Boston. She is the author of Chinoiserie: Commerce and Critical Ornament in Eighteenth-Century Britain (2014), the co-editor with Michael Yonan of Eighteenth-Century Art Worlds: Global and Local Geographies of Art (2019), and the editor of A Cultural History of the Interior in the Age of Enlightenment (2021). She is currently writing a book on the artists and artisans working in and around St. Martin's Lane.
DR LAURIE LINDEY
Title: The Furniture Trade and Furniture Making during the early eighteenth century
Summary: By the beginning of the eighteenth century London had become a fashionable European city and a commercial centre of manufacturing and mass consumption. The furniture industry was a major contributor to this economic and cultural boom. Innovative London furniture makers were manufacturing outstanding anglicised versions of European and Asian products that made luxurious objects available to the burgeoning middle class at an affordable price. How did London tradesmen achieve such a feat?
How were furniture-making skills and specialised techniques transmitted from generation to generation and between workshops? Who made the furniture and how was it sold?
In her presentation Laurie Lindey will tackle these questions and briefly consider the dynamics of the trade with reference to the case studies of a network of cane chair makers in St. Paul's Churchyard and cabinet makers working in Aldermanbury (just north of the churchyard): their specialisms. organisation of manufacture, and their personal and professional relationships
Biography: Dr Laurie Lindey is an early modern London historian with special interest in the London furniture trade. Since 2016 she has been the research officer for the British and Irish Furniture Makers Online (BIFMO) project.
ADRIANA TURPIN
Title: Furniture Makers in the Early Georgian Period – an overview
Summary: Highlighting a selection of the most important commissions from this period, Adriana will provide an insight into the development of a variety of styles which emerged by the mid-century. This explosion of creativity was prompted by a great period of prosperity which funded the furnishing of town and country residences of the aristocracy including, Blenheim, Houghton, Holkham, Chiswick House and Marble Hill. An emerging powerful group of city merchants and financiers, also commissioned fashionable pieces to furnish their houses. The variety of patrons, together with a greater availability of exotic materials, created the right conditions under which a number of diverse furniture makers could flourish. Both James Moore and Benjamin Goodison worked at court and beyond; Giles Grendey, William Hallet, his successor, William Vile, and Mathias Lock had workshops supplying both cabinet and seat furniture. This presentation will conclude with the furniture depicted in Chippendale's great Director of 1754. It is at this point that fashion shifts towards the classical revival led by Robert Adam.
Biography: Adriana Turpin has been teaching at the Institut d'Études Superieures des Arts in Paris, where she established an MA on the History and Business of Art and Collecting, validated by the University of Warwick. Adriana is a furniture specialist, having taught history of furniture and design for twenty years at Sotheby's Institute London, concentrating on European furniture of the seventeenth and eighteenth centuries. Her publications include an articles for Furniture History on Cornelius Gole and Thomas : 'Furniture for the London Merchants 1660-1730', ed. M Galinou, The London Merchant and the Arts, and an essay on William Beckford's furniture for the exhibition, An Eye for the Magnificent, Bard Graduate Centre, New York (2002). More recently she has been researching 19th Century markets for furniture, with several articles on the collecting of Italian, French and, most recently, the markets for 18tth century English furniture in England and the USA. Adriana is an active member of the Furniture History Society, Chairman of the Society's Grants Committee and Project Manager for Outreach and Development for BIFMO (British and Irish Furniture Makers Online).
PROFESSOR ANN SUMNER
Title: 'Really magnificent and no Expense has been spared' – the Chippendale Firm at Harewood House
Summary: Professor Sumner will focus on the Chippendale commissions at Harewood House including the Diana and Minerva commode and the magnificent bed in the State Room.
Biography: Ann Sumner is currently Visiting Professor at Manchester Metropolitan University where she heads up the Mitzi Cunliffe and Manchester Women Artists Project. Accomplished at working with both the fine and decorative arts, she is a former museum director, experienced curator and museum consultant, as well as an academic researcher who regularly publishes and lectures. Her fields of interest include eighteenth and nineteenth century British landscape painting, French Impressionism, Welsh Art, Public Sculpture and Women artists and collectors including the Gwendoline and Margaret Davies as well as pioneering the study of art inspired by the game of lawn tennis. She has successfully curated a number of ground-breaking exhibitions including Thomas Jones: An Artist Re-Discovered (2003-4). From 2015-18 she was Historic Collections Adviser at Harewood House Trust, Yorkshire, where she led the Harewood contribution to Chippendale 300 entitled Designer, Maker, Decorator in 2018, regularly writing the Christie's sponsored blog.
SARAH MEDLAM
Title: Using One's Eyes: Learning from the Object. Investigating Mr Seddon's Chairs.
Summary: This session will look at three chairs from the Victoria and Albert Museum's collections made in 1790 by one of the largest furniture-making firms in London (Seddon, Sons & Shackleton) for a client in Guernsey. We will focus on the design of the chairs and at details of the chairs that help us to understand how the different trades contributed to their making and decoration. Although there is much archival evidence for Seddon's production, these chairs are among relatively few surviving pieces known to have been made by the firm.
Biography: Sarah Medlam has held curatorial posts specialising in furniture since 1974, firstly at The Bowes Museum, Barnard Castle and, from 1992, at the Victoria and Albert Museum. She retired in 2012 as Deputy Keeper of Furniture, Textiles and Fashion, where she had worked on the British Galleries (opened 2001) and the new Europe Galleries (opened 2015). Much of her work has been on European furniture from 1600-1900 but she has also written on British furniture, both fashionable and traditional. She has served as a Council member of both the Furniture History Society and of the Regional Furniture Society and has held offices in both, including as Editor of the journal Furniture History and as President of the Regional Furniture Society. She is a Trustee of the Attingham Trust for the study of the British country house and its collections.