'From John Coleman Isaac to H. Blairman & Sons: two centuries of commerce and friendship'
with
Martin Levy
6pm for 6.30pm start.
Would 'brokers' active in the early decades of the nineteenth be able to see echoes of themselves in the antiques dealers of today? Have their approaches changed? Looking at the records and histories of two separate firms, connected only through marriage, this year's Annual Lecture will suggest that while much on the surface has changed, the challenges encountered by John Coleman Isaac in the 1820s; by Harris Blairman from 1884, and by the generations that have followed, are not so different. Moreover, and perhaps unsurprisingly, it is personal relationships, often friendships, that sit at the heart of the history of dealing, as well as the ever-present impetus to collect. Over the period under consideration transport and communication became easier and access to information became more open. But to adapt the words of Lampedusa in The Leopard, while everything has changed, everything has remained the same.
Martin Levy has, since the 1980s, lectured in the U.K. and the U.S.A. contributing articles, exhibition reviews, book reviews and letters to numerous publications. From 2002-2013 he was Treasurer of Furniture History Society, and Council member (1994-96).
In 1998 he was elected as a Fellow of the Society of Antiquaries of London, in 2014 he was awarded the Iris Foundation Award for Outstanding Contributions to the Decorative Arts and in 2019 the Society Medal awarded by Society of Antiquaries of London.
He is a Trustee of the Bard Graduate Center, New York (2017-present and the Oliver Ford Trust (1997-present). His other roles include The Gilbert Trust for the Arts (2019-present: Board Member), Decorative Arts Society (2017-present: Chairman), Kelmscott Campaign Group (2017-present: Chairman), Spoliation Advisory Panel (2000-present: Member), Reviewing Committee on the Export of Works of Art (1997-2007: Member) and the British Antique Dealers' Association (1993-1994: Chairman).
We will be Live Streaming this lecture and details on this have been sent to members. Non-members are able to attend virtually please contact Bearice Goddard on events@furniturehistorysociety.org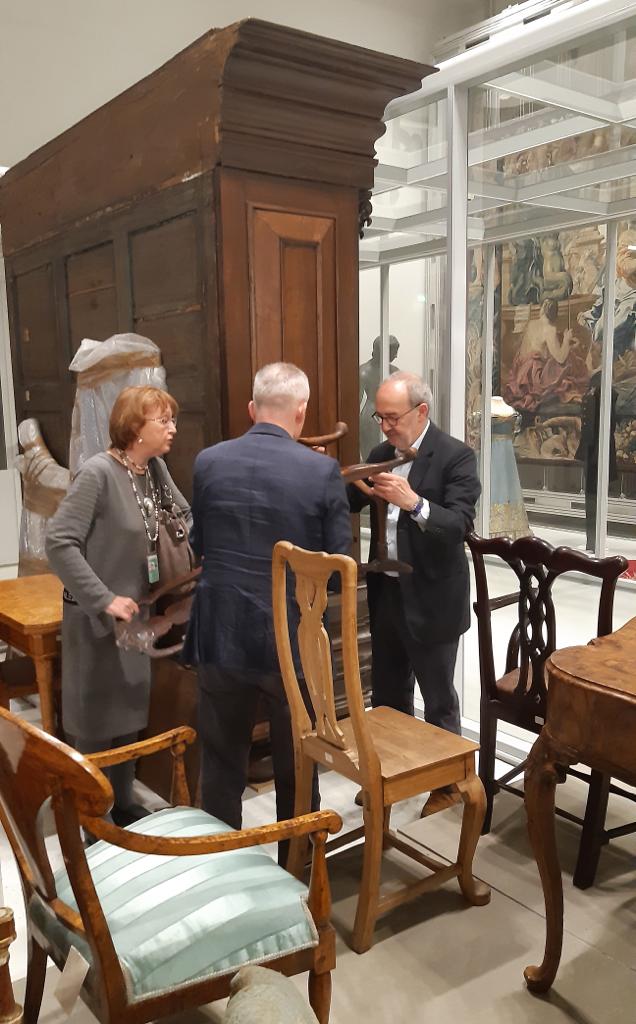 Martin Levy with Max Donnelly (V & A) and Dr Natalya Guseva (Deputy Head of the Hermitage's Department in the History of Russian Culture)