General News
/
Published on Monday, 23 September 2019
Evening Lecture - Gilbert Collection V & A - Diplomatic Diamonds
Wednesday, 9 October 2019
18.30pm
The Lydia and Manfred Gorvey Lecture Theatre
Victoria & Albert Museum, Cromwell Road, London SW7 2RL
Diplomatic Diamonds - The Triumph, Tragedies and Treasures of James Harris, 1st Earl of Malmesbury, British envoy in Madrid, Berlin, St. Petersburg, The Hague and Paris
The Gilbert Collection is hosting a few events this Autumn and is delighted to invite you to the first on on Wednesday, 9 October.
This is an evening lecture organised in association with the Society of Court Studies, about James Harris, 1st Earl of Malmesbury whose diplomatic boxes are on loan to the V & A and on display in the Gilbert Galleries.
For more information and to book tickets, please click here.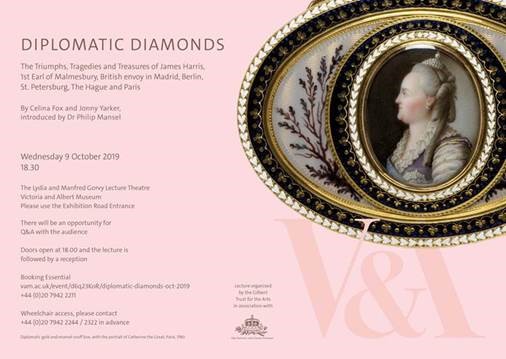 Other categories
Back
Previous
Next