/
Published on Thursday, 21 January 2016
Ebony cabinets at risk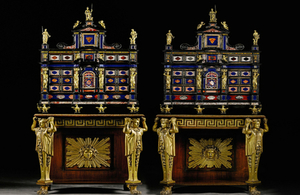 Rare £1.2m ebony cabinets at risk of export from UK
The Society is sad to inform members that a pair of 17th century Italian cabinets are at risk of being exported from the UK unless a buyer can be found to match the asking price of £1,265,000 (plus VAT of £43,000 on the buyer's premium). Culture Minister Ed Vaizey has placed a temporary export bar on the 300-year-old ebony cabinets to provide an opportunity to save them for the nation.
RCEWA member and FHS Chairman Christopher Rowell said: 'These two magnificent ebony cabinets, veneered with hardstones and mounted in gilt bronze, on neo-Classical Kent Revival stands made for the Picture Gallery at Castle Howard, represent the high watermark of the British taste for Italian princely furniture. With the exception of the National Trust's cabinet at Stourhead, made in Rome around 1585 for Pope Sixtus V, these are the most significant Roman cabinets of this type in Britain. Every effort should be made to prevent their export.'
Further information regarding the situation can be found if you Click Here.
Other categories
Back
Previous
Next