Additional day visit on Monday 25th as well as Tuesday 26th July. 10.30am - 12.30pm
Situated on the banks of the River Avon near Salisbury, Wiltshire, Longford Castle is now the seat of William Pleydell-Bouverie, 9th Earl of Radnor, the Earl of Radnor. It was originally built in the late sixteenth century for Sir Thomas Gorges (1536-1610), courtier to Queen Elizabeth I, by the architect John Thorpe (1565-1655).
The castle became the residence of Sir Edward des Bouverie (1688-1736) in 1717. The des Bouverie family was descended from a Huguenot silk weaver, Laurens des Bouverie (1536-1610), who had fled from religious persecution during the Reformation and settled in London.
Sir Edward's brother, Sir Jacob des Bouverie, 1st Viscount Folkestone (1694-1761), succeeded to the title in 1736 and set out to alter the castle and the grounds. He commissioned some of the finest cabinetmakers of the time, including Benjamin Goodison, William Hallett, William Vile and John Cobb, William Bradshaw, William Ince and John Mayhew, and Thomas Chippendale.
The Longford Castle collection, formed by successive generations of the family, includes paintings by van Dyck, Claude, Teniers and Hals, together with British pictures by Reynolds and Gainsborough, as well as oriental porcelain, Brussels tapestries, and of course exceptional eighteenth century English and continental furniture.
This visit is now full, please contact events@furniturehistorysociety.org if you wish to be placed on the waiting list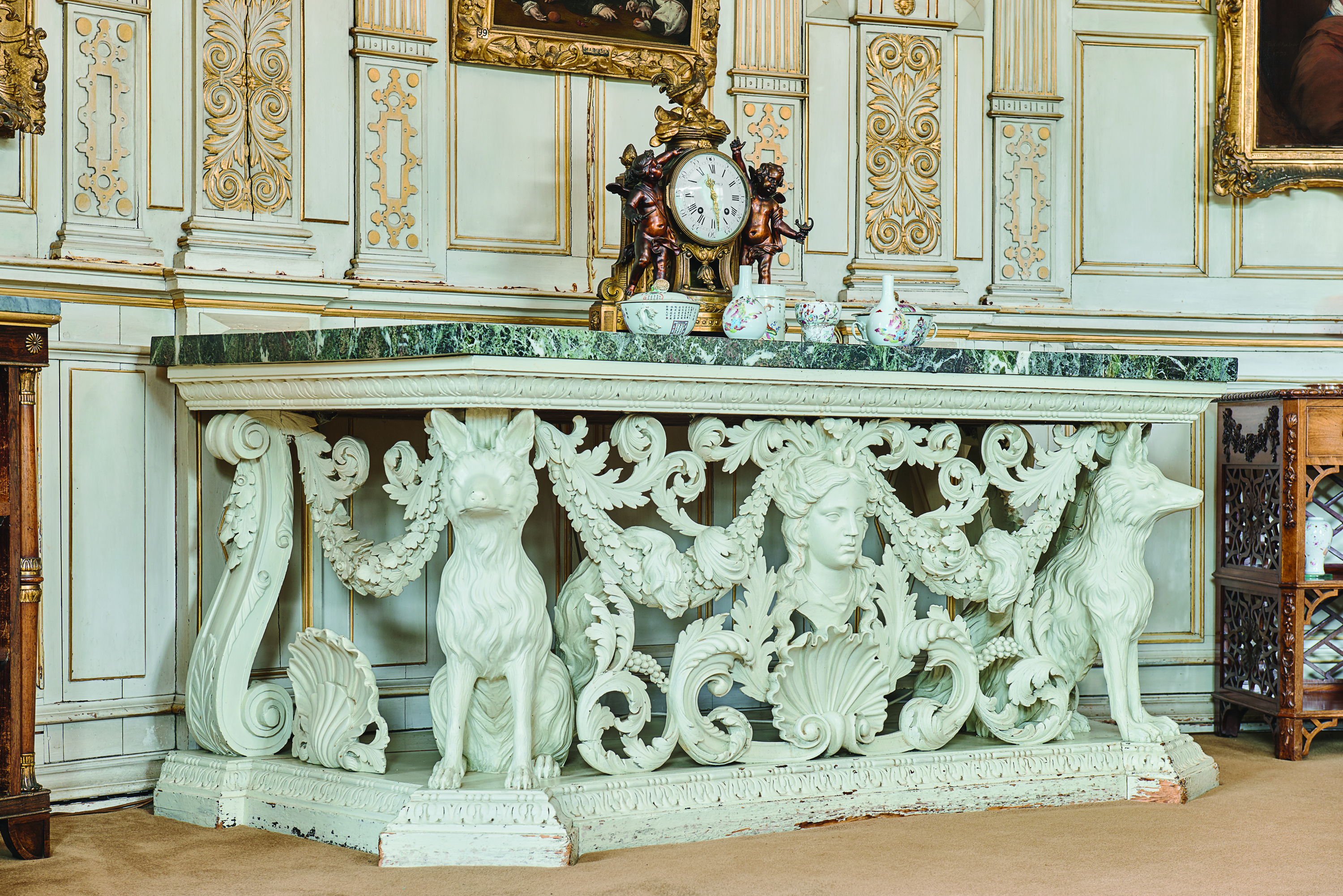 A George II Pier Table., circa 1730. Attibuted to Benjamin Goodison (c.1700-1767), Carved pinewood frame, painted white, surmounted by a slab of verde antico marble, Longford Castle