Zoom, 17.00 (GMT) Please note earlier than usual start time.
Furniture in malachite: a century of Russian taste at the European market
by
Dr Ludmila Budrina
(Professor at Ural Federal University, Russia)

Ludmila has a PhD in Art History and is Professor at the Ural Federal University. An invited researcher at the Harvard University Center for Italian Renaissance Studies (Florence, 2017), Institut National de l'histoire de l'art (Paris, 2009 & 2017), Victoria and Albert Museum (London, 2015). Author of more than 200 publications in hard stone history, she has participated in conferences and given lectures on both Russian and European hard stones in Moscow, Saint Petersburg, Rome, Paris, Florence, London, Berlin. Her monography "Malachite Diplomacy" was published in 2020.
This lecture will counter the myth that malachite and gilded bronze furniture is always Russian, always Imperial, and always - first half of the 19th century. Details will be discussed of the panorama of main centres and the most important artists who applied Ural green stone for their interior pieces during the different stages of the Golden Age of Russian Malachite.
This event is free to members, and £5 for non-members. If you are a non-member and would like to pay for a ticket, please click here. The event code is SAPYBU.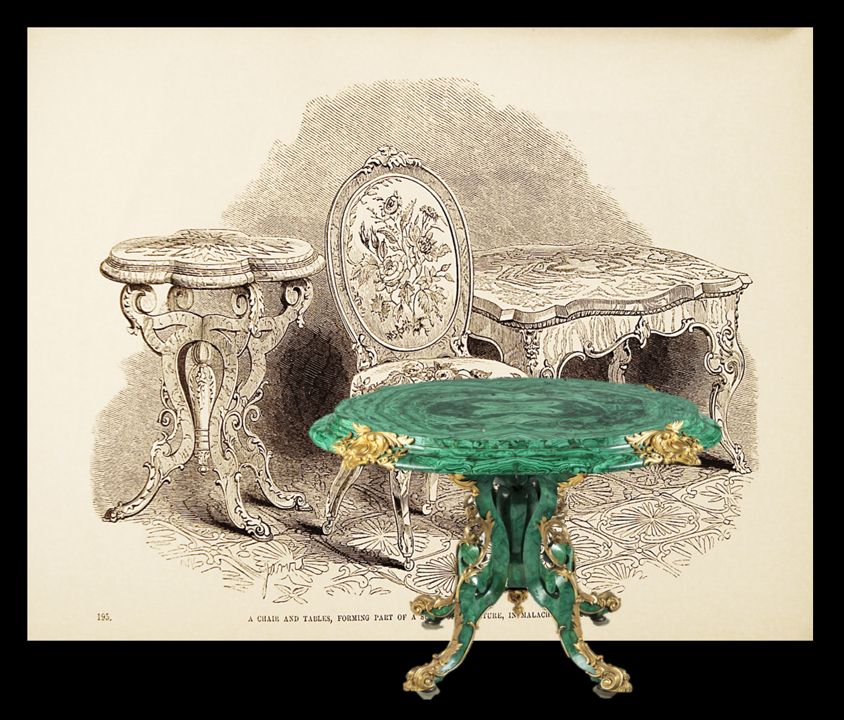 Page from London 1851 World Faire Catalogue with malachite furniture items & Table. Demidoff Malachite Factory, 1849-1851. Hillwood Estate, Museum and Gardens