21st Feb /
2021
FHS Online Lecture - Dr Rebecca Tilles, Associate Curator of 18th Century French & Western European Fine and Decorative Arts, Hillwood Estate, Museum & Gardens, Washington D.C.
'Highlights from Hillwood: Marjorie Merriweather Post's taste for 18th Century European Furniture' 21 February 2021, 19:00 (GMT)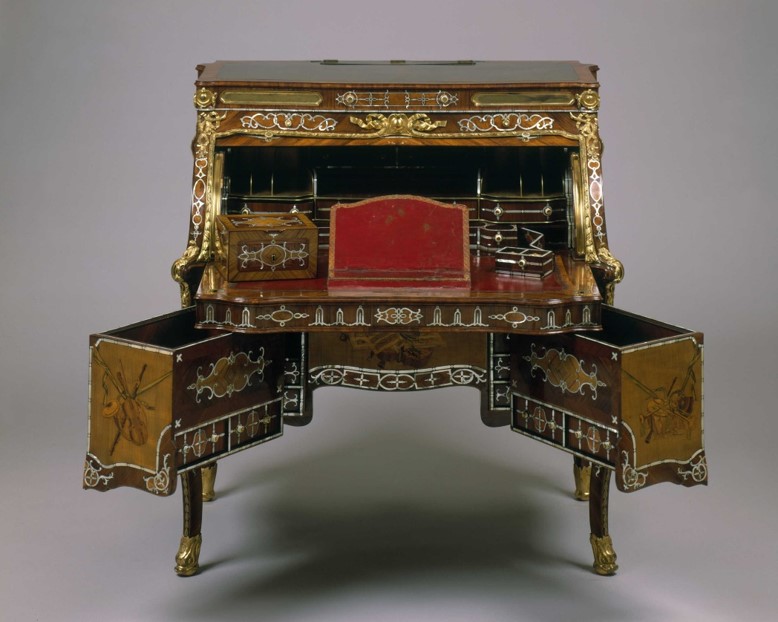 Roll-top desk, Germany (Neuwied), 1765-1770, Abraham and David Roentgen. Oak, cherry, and other woods, veneered with tulipwood, rosewood, maple, mother of pearl, gilt bronze. Bequest of Marjorie Merriweather Post, 1973 (33.222)
Rebecca Tilles is Associate Curator of 18th Century French & Western European Fine & Decorative Arts at Hillwood Estate, Museum & Gardens in Washington, DC. She is currently organizing an exhibition of outdoor garden sculpture by the artist Kristine Mays entitled Rich Soil (June 26, 2021-January 9, 2022), as well as an exhibition on the evolution of porcelain in Western Europe and Marjorie Merriweather Post's interest in diplomatic gifts and international commissions between Western European and Russian factories (February 16-June 26, 2022). Rebecca is also organizing a spotlight exhibition entitled "Marjorie Merriweather Post and the Diplomacy of Philanthropy," in partnership with the State Department, at the National Museum of American Diplomacy in Washington, D.C. (2021).
Rebecca completed her PhD in Art History from the University of Sussex where her dissertation was entitled George and Florence Blumenthal: A Collecting Partnership in the Gilded Age, 1858-1941." She recently published "The Artistic Patronage and Transatlantic Connections of Florence Blumenthal" in the most recent issue of 19: Interdisciplinary Studies in the Long Nineteenth Century and is currently working on a new publication on Marjorie Merriweather Post's collection and residences with Hillwood's curatorial team that will be published by Rizzoli in 2022.
This event is free for FHS members, £5 for non-members
Event Code: EVASEB
To pay for this event online please follow this link https://www.furniturehistorysociety.org/events/fhs-online-lecture-dr-rebecca-tilles-associate-curator-of-18th-century-french-and-western-european-fine-and-decorative-arts-hillwood-estate-museum-and-gardens-washington-dc/payment/