We are delighted to welcome Bertrand de Royère, who will speak on Pelagio Palagi, Decorator of the royal palaces of Turin and Piedmon.
Following Pierre Arizzoli-Clémentel's publication on the Napoleonic decorations of the Palazzo del Quirinale, Rome, and Hugh Roberts's description of George IV's private apartments in Windsor Castle, Bertrand de Royère has studied the decorative schemes commissioned by Charles Albert, King of Sardinia (r. 1831-1849) for his three main residences in Piedmont: Palazzo Reale, Turin, the Castello di Racconigi and the Castello di Pollenzo. Pelagio Palagi (Bologna 1775- Turin 1860), already well established in Milan as a history painter and portraitist, was appointed by the young king in 1832 as designer and impresario of the palace decorations.
Royère based his research on the Palace archives in Turin, on Palagi's correspondence and drawings which were bequeathed to the Archiginnasio Comunale in Bologna, and on the surviving decorations and furniture made by highly talented craftsmen in Turin, Genoa, Milan and Paris, such as the cabinet-makers Gabriele Capello and Henry Peters (a native of Windsor), the bronze-makers Colla e Odetti in Turin and Lerolle in Paris, and the silversmith Charles Nicolas Odiot.
Palagi's decorations range from the Gothic to the Etruscan and the neoclassical, in an interesting mixture of styles typical of the 1830s and 1840s. His style is often a tribute to the interior decoration of Charles Percier and Pierre Fontaine, but also to the eclectic models of Claude Aimé Chenavard and his Nouveau Recueil (1833-1835) and to the highly talented Venetian Giuseppe Borsato (1770-1849), not to mention the scuola d'ornato (ornate school) from Brera, in Milan.
Royère's lecture will provide an opportunity to study the plethora of Palagi's designs for furniture, juxtaposed with pictures of the furniture itself. The designs were in competition with the latest Paris fashions and in some cases influenced French models, as seems to have been the case with the cabinet-maker Jeanselme.
Bertrand de Royère published his research in 'Pelagio Palagi, Décorateur des palais royaux de Turin et du Piémont (1832-1866)', 400 pp, Mare & Martin, Paris, 2017
We plan to hold this as an online lecture. FHS members will bbe informed of the arrangements by email nearer the time. Non-members who would like to attend should periodically consult this page for further details, or contact the Events Secretary at events@furniturehistorysociety.org.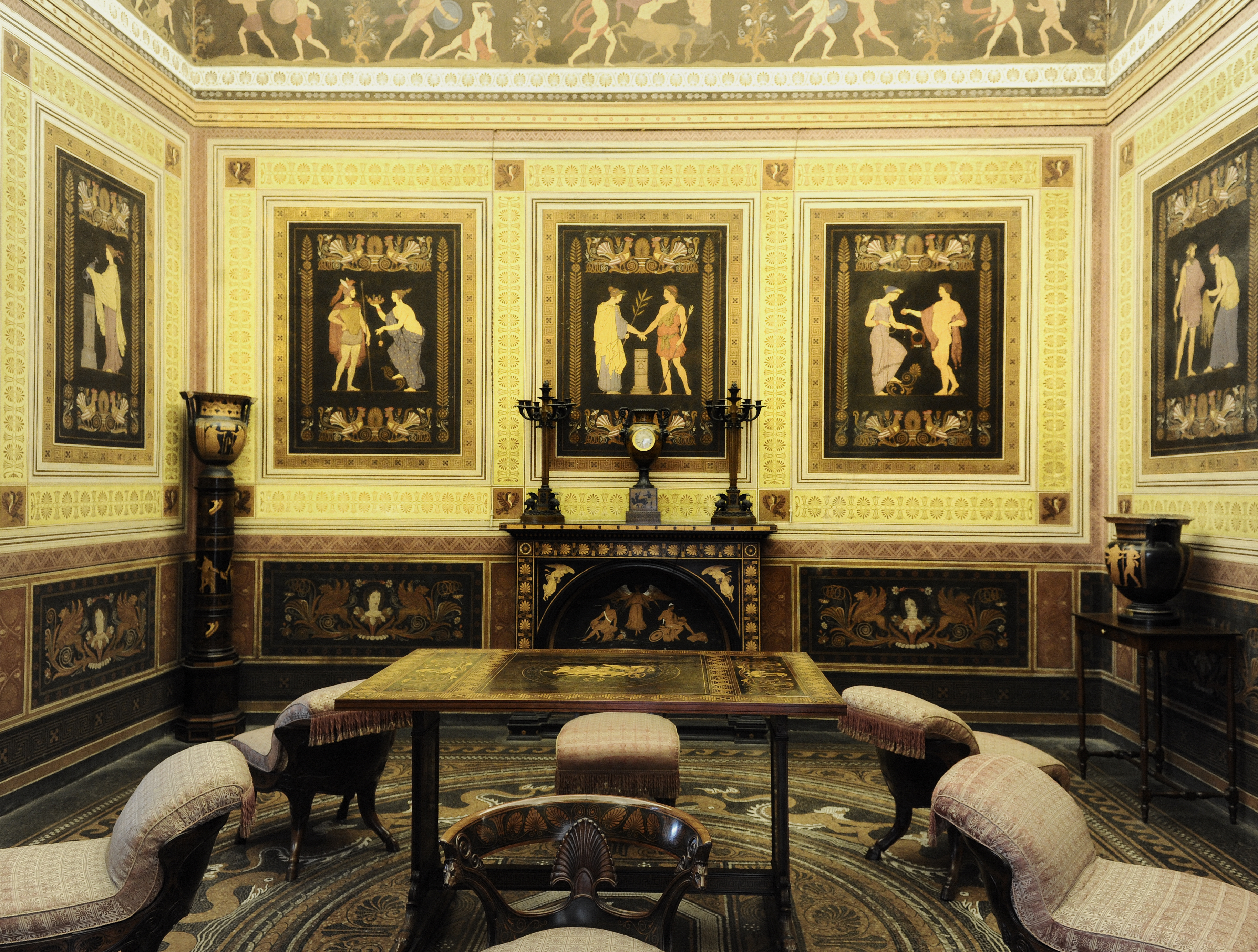 Pelagio Pelagi, The Etruscan Cabinet circa 1833, Castello di Racconigi, Piedmont